Dear Customer,
it is time for our next free monthly newsletter containing a content as follows ...
Local lectures and field trips

Symposias and conferences of partners

10 offers of new materials, parts, preparation processes or analytical techniques

11 request for new materials, parts, preparation processes or analytical techniques

Industrial fairs worldwide - Aug 2014 to Oct 2014

Conferences worldwide -

Aug 2014 to Oct 2014



In case you would like to:




- publish a symposium or conference as a partner

, or


- publish an offer or a request regarding new materials, parts, preparation processes or analytical techniques

:
- feel free to contact us under email
Please let us advise you to the following symposia to be held in Germany (and abroad)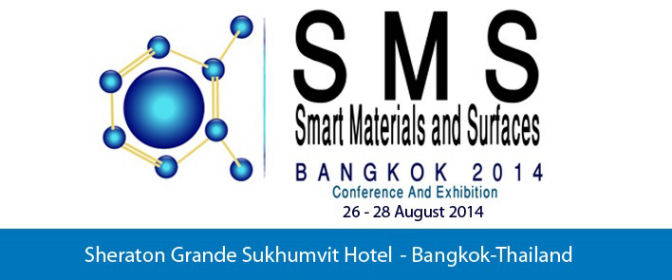 SETCOR International Conference on Smart Materials and Surfaces - SMS - 26-28 Aug 2014 - Bangkok
Smart Materials and Surfaces (SMS), Bangkok 2014 is a three-day event targeting researchers interested in the design, modification, characterisation and applications of Novel Smart & Active Surfaces and Materials. The goal of conference is to provide a global platform for researchers and engineers coming from academia and industry to present their research results and activities in the field of Intelligent Materials science and engineering. The conference will provide opportunities for the delegates to exchange face-to-face their novel ideas and experiences with the international experts during plenary & invited talks, oral presentations and poster sessions.
Important! As an conference attendee please use your voucher to start your participation in innovation management. Offer project participation, knowledge, equipment usage, results or IP etc. to find companies or partners looking for you. Get our SILVER package for free or our GOLD package with 30% off!
---
Materials & Innovation: Building the Future: National Educators Workshop, November 2 – 4, 2014 in Seattle, Washington
The National Educators Workshop (NEW) provides participants with the latest topics, strategies and methods for teaching material science and technologies. This Workshop unites educators at all levels with a materials science focus, offering classroom tested hands-on labs, demos and workshops to assist instructors directly in their teaching.
NEW offers:
Presentation opportunities for focus on hands-on experiments, demonstrations and laboratories
Poster and oral presentation opportunities
Assistance to instructors in evaluation and course assessment methods
Networking opportunities with participants from all educational levels
Assistance with new materials technologies
Road maps and methods for development of new materials courses
Direct means for introducing materials concepts into existing courses
Opportunity for peer-reviewed publication for current and future reference
Authors are invited to submit abstracts focused on the above topics applied to over 20 theme areas, including:
Structural materials with processing and applications
Manufacturing and materials experiments and applications
Chemical and physical properties of all classes of solids
Corrosion and Environmental Degradation
Nanotechnology and its importance in materials science and technology
Biomaterials and their preparation and utilization
Best practices and hands-on curricular material focused on strengthening student interest and understanding are encouraged, along with more advanced topics to assist instructors in enhancing learning at higher levels.
Your abstract is requested for this unique, dynamic Workshop where both invited and contributed oral presentations and poster opportunities are featured along with networking opportunities. Traditional lecture-only presentations are discouraged. Reviewers are looking for innovative practices, lab/demo ideas, and active learning opportunities. Abstract submission directions are available at http://materialseducation.org/events/new2014/
Abstract due date July 31, 2014. Submit abstracts to MatEd@edcc.edu
More workshop information at http://materialseducation.org/events/new2014/
---